Your Own Company Branded Mobile App
Get your own company branded mobile app with ebook reader and promote your brand
Reach More Potential Buyers. Increase Sales
Sell your ebooks through your own branded app, ulektz platform and 200+ individual institutions app.
Sell your eBooks without Online Payment
Generate coupons for your eBooks to facilitate the online purchase without online payment.
Strong DRM for Piracy Protection
Encrypt your eBooks with AES 128-bit to protect them from piracy and illegal distribution
Know your Customers & their Profile
Get to your customers contact such as their name, email, mobile, etc., to reach them for any promotions and offers.
Add Value to your Print Books. Reduce Printing Cost.
Distribute supplementary materials of your print books in eBook format via Coupon Code. Get to know your print book buyers.
Emerging challenges for Educational Publishers
Though print books are still a preferred choice of many for reading and learning, the advent of mobile technologies and the increasing usage of smartphones and tablets have helped increasing the awareness and usage of ebooks worldwide. Moreover, today's generation of students are digital natives. They liked to be engaged via digital medium such as visually rich interactive learning resources, computers, tablets and smart phones. There are also large volume of digital learning content/ebooks available on the Internet for free or at very low cost compared to print books. Adding to all these current challenges, the COVID situation has further accelerated the usage of digital learning content, and has hugely affected the sales of print books worldwide.
uLektz Books for Publishers
To help educational publishers leverage innovative and latest digital technologies, increase their print books sales and profits, retain and increase their customer-base, and remain competitive, uLektz Books offers a white-labelled eBook Store platform.
uLektz Books offers a SaaS-based platform for educational publishers to protect, publish, promote and sell their ebooks through their own company branded ebook store. By leveraging the power of uLektz Books, publishers can allow their customers to access the purchased/subscribed ebooks from anywhere, anytime and on any device both online and offline. The platform also provides built-in Digital Rights Management (DRM) with 128-bit Advanced Encryption Standards (AES) to encrypt the ebooks and protect them from piracy and illegal distribution. While providing a robust technological platform, uLektz also helps publishers to promote, sell and deliver their ebooks to 1 million+ users on uLektz platform.
How it works?
Set up your own company ebook store (web-based cloud platform and mobile app) on uLektz Books
Upload your ebooks, protect them using built-in DRM, set price and publish for promotion and sales.
Promote your ebooks to reach 1 million+ users through hundreds of channels and increase sales.
Track, monitor and manage your ebooks, sales and customers. Know what sells, and who buys.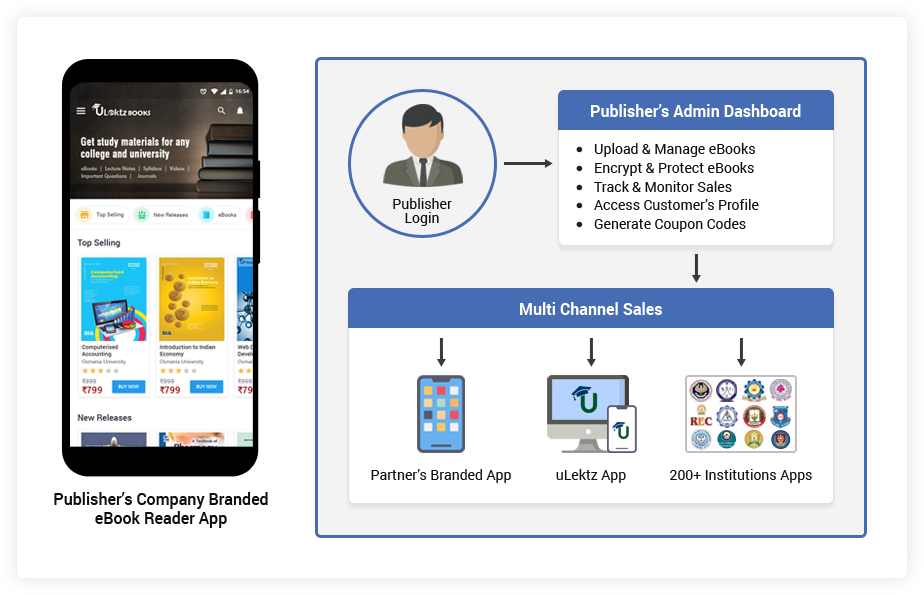 Business Models
uLektz Books is a part of uLektz platform that is being used by 1 million+ students and educators worldwide. Publishing using our platform can promote, sell and distribute their ebooks to our users directly on B2C model and through our partner institutions on B2B Model.
eCommerce B2C Model

Selling ebooks to individual users with Digital Rights Management (DRM). The purchased / subscribed ebooks can be accessed by the users via:

Web browsers from laptop or desktop for online access mobile app from smartphones for online and offline access.

Library Model

Selling ebooks to institutions with Digital Rights Management (DRM) on Annual Subscription. The members (students and faculty) of the institutions can access these ebooks via:

User based access (ebooks can be accessed from anywhere i.e., no restriction on IP address. So, the users can access the ebooks both within the campus and outside the campus.)

IP based access (ebooks can be accessed only from the specific IP address of the campus. So, the users need to be in the campus to access these ebooks.)
Pricing:
Implementing our Digital Library Platform with your institution branded mobile app is very easy and simple. You don't need to purchase, install or maintain any hardware or software. No big investment is required. It is very cost-effective.
For more details, you may contact support@ulektzbooks.com.